Ja så det tid til WWDC fra Apple, og spændende ser det ud ´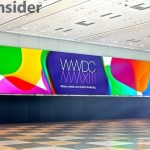 Sådan ser deres "event" banner ud. og det leder jo hen til at vi skal have farver igen. spørgsmålet er så = Hvor henne skal vi have farver ? hvor skal der være ændringere ?
Jeg "håber" at vi for en ændring til IOS og at Apple tv for apps
men self også nyt OS X, skønt det svært at kunne finde nye påfund og ændringere til nuværende OSX Mountian Lion
Og som altid florer der rygter. Mange rygter og alle kan være med self.
En demo på hvordan seneste rygte er blevet lavet
Hvad tror du der bliver udgivet på dette års WWDC ?
Jeg vil sidder fra kl 18:00 inde på macbay.dk i deres chat og følge hele denne begivenhed
i er alle velkommen til er komme og blive opdateret og tage en debat evt.